All of you might have heard of number crunching and demographics provided by Google Analytics. The mind blowing results that Google churns out for a website is worth a real hard look. A very useful tool for tracking website performance.
Not many people think about another way of marketing and its through adding video to YouTube.
So what is YouTube Insight?
Well, it's a handy analytics tool (very similar to a scaled down Google Analytics). It gives you the following features:
1. How many views your video has over specific periods of time,
2. The demographic and geographic breakouts of the views and
3. How people are finding the video content (web search, YouTube search, embed, etc…)
Though not always 100% accurate it's a good medium to learn and gain insight about your video performance.
Youtube launched this product in March 2008 and mentions that it's a medium to view detailed statistics about the video they have uploaded, how often their videos are viewed, the geographical area of popularity and so on.
So how do you get started? The first step is to create an account with YouTube. In my example I am going to be a 'hair transplant centre'
Fill in your profile correctly. Don't forget to fill in the place or location where you are from, age, sex as these are some important factors while getting you results from YouTube Insight.
Tips For Optimizing YouTube Videos
1. Optimize your video file name – make it more meaningful. For example – if your video was named "vid001.flv" then rename it to a meaningful "hair transplant surgery.flv". Makes sense? Yes, because you are helping spiders pick your file more easily, will be more easily indexed by Google.
2. Optimize your title – make it sound sensible. Throw in a few keywords so that its easily picked up. Make sure the keywords are related to the video.
3. Optimize your tags / keywords – throw in your most relevant keywords. Use descriptive keywords, combine them, separate them – mix it up.
4. If possible add in your company URL or name on to the video.
5. Network your video –
a. Post a video response to a similar looking video. That way you will get a good response and even get linked back and more exposure due to such comments.
b. Comment on other videos – go on commenting other such similar videos (as the ones you have posted) and also add your post if you'd like to. Build up a good network of like-minded users / business group.
Okay, so here is a snapshot of what I have got for you from Youtube Insight. The client here is a Hair Transplant example.
You can find the Youtube Insight on the My Account – All link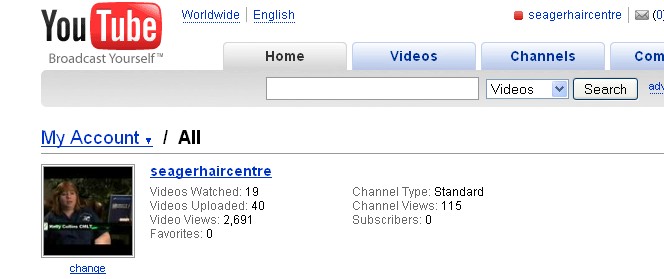 The views as seen (for a week) and the mostly watched video and least watched video

The 'views' bar for 2 months – July and August showing variations in viewership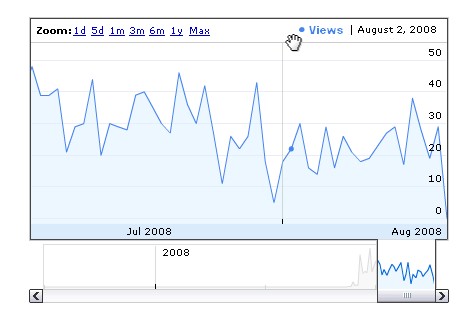 Geographical viewing – worldwide or all countries. You can see that US has a higher viewership followed by Canada.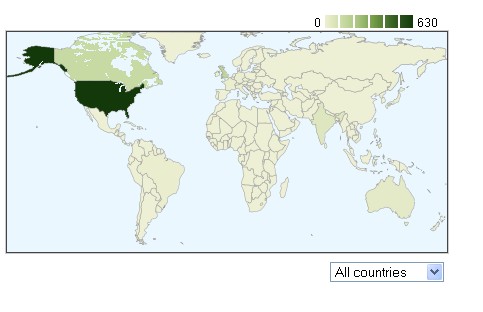 Here is an interesting figure showing which of your videos were the most popular ones.

The popularity graph showing how popular your videos were compared to other channels, interestingly also shows how popular it was in different countries.

Another interesting feature is – WHO is watching your video? You can see from the image below, the age group in which its most popular and the sex (whether the viewership is male or female dominant) is also seen. Of course, this is all based on the information that YouTube gathers from the personal account of the users.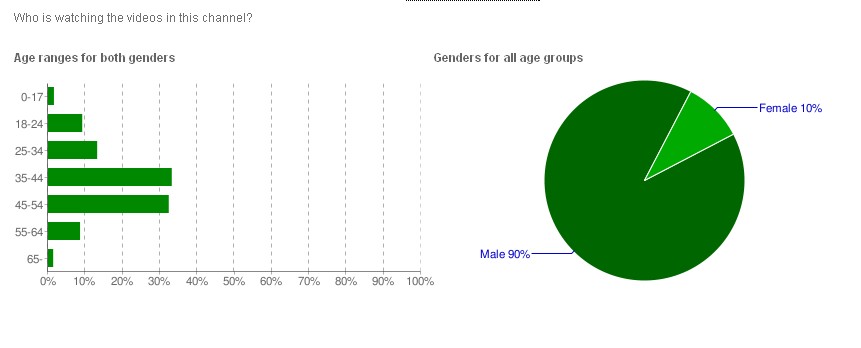 You can see that 90% male members viewed this video as compared to 10% female and the highest viewership was for the age group 35 to 44.
Interesting? You bet!
There is much more to learn about teh analytics of YouTube videos. The real point however, is that your videos performance can be measured and also can provide your actual site with very valuable website traffic.
Start posting your videos now and have fun!