It's hard enough thinking of new blog ideas every week, let alone having to edit them when you're done!
If you're looking for ideas on what to write about, check out these posts:
The focus of this article is blogging efficiency. Here are 3 tools to help you blog like a pro:
1) The Secret to Error-Free Editing
Sure, there's spell check and grammar check in Microsoft Word, WordPress even has its own built-in spell check; but even the best spell/grammar check isn't gonna catch everything. Here are three things you can do to ensure bullet-proof grammar.
Use Computer-Generated Text-to-Speech
This is my big secret for nearly error-free (nobody's perfect!) spelling and grammar. I use Natural Reader on Windows. After you're finished simply paste your blog into Natural Reader and click play. Having someone else (in this case a computer) read your work to you allows you to hear errors without the added distraction of having to physically speak the text. There is a free and paid version. Additionally, Mac OS X has a great built-in text-to-speech engine. You can also check out these Chrome extensions for text-to-speech.
Read Your Blog Aloud
After slaving away at an article your eyes and brain become familiar with what you've written (making it difficult to pick up errors). Once you're done writing take a moment to relax. When you're done come back to it and read it aloud and you'll find that errors are a lot more noticeable.
Have Someone Else Read Your Post
For the same reasons as the point listed above, having a friend or co-worker read over your post for spelling and grammar will help a lot.
2) Windows Live Writer
Typing into the back-end of your WordPress blog isn't the most intuitive experience. Even worse is when you encounter a formatting disaster after pasting in something you've written in Microsoft Word. There is a better way!
Microsoft Live Writer is a standalone software that you can find here. Live Writer creates an in-line editing environment where you upload your WordPress theme and basically edit your blog as if it was directly on the page. Live Writer will pull everything from your theme, headings, bullet-point styles, and other elements of the CSS.
You can drag and drop photos, add effects, watermark pictures, crop, wrap text and a whole lot more. Don't bother with the clunky, inefficient back-end of WordPress; Live Writer allows you to do more, faster.
Setting it up is a breeze. Simply add your blog account and update your theme. You'll now notice that your Live Writer interface looks pretty much identical to your blog. When you're finished your blog post click "Post Draft to Blog." From there you can change the category, edit the vanity URL and modify additional settings. Or if you want to skip all that, you can publish directly from Live Writer.
3) FastStone Capture
FastStone Capture is a feature-rich screen capture program that has infinitely more features than Windows 7's built-in Snipping Tool.
With FastStone you can take precise screen captures by magnifying the corners where you crop. It also allows you to highlight and circle areas of the image, create captions and draw arrows to help you illustrate your point. See this example: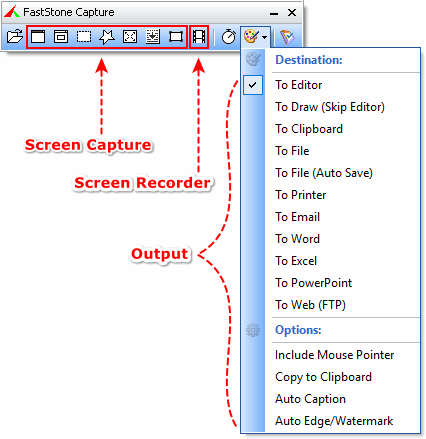 We use FastStone on many of our blogs and for internal office communication. Once you use it, it's one of those tools you can't live without. It costs $19.95 for a lifetime licence and is worth every penny. Download it here.
In Summary
Blogging is a great way to boost your site's SEO, but maintaining a blog is often the hardest part. There's nothing worst than a blog that's never updated. Hopefully these tips will make the process of creating blogs easier. If you have any other tools/tips please leave them in the comments.